Holocaust Survivor Memoirs With Lesson Plans
Exploring the life stories of the Holocaust Survivors who volunteer or were volunteers at the Holocaust Memorial is an excellent way of connecting to the experiences of these remarkable people and the lessons their experiences have taught them. Below are links to six Survivors memoirs.
To further explore and learn from these memoirs a series of lessons plans have been created for grades 6-12. The series compares and contrasts the various experiences of the Holocaust Survivors.
Please click on one of the names below to access a specific lesson plan.
High School Holocaust Survivor Memoir Lesson Plan:
Allan Hall and Henry Flescher
Fred Mulbauer and Alex Gross
Victor Farkas and Allan Hall
Middle School Holocaust Survivor Memoir Lesson Plan:
David Merelstein and Henry Flescher
Alex Gross and Victor Farkas
Allan Hall and Alex Gross
ALEX GROSS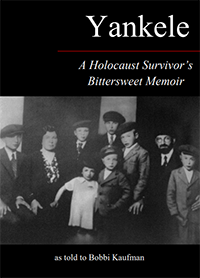 Alex Gross was born in the Carpathian Mountains of Czechoslovakia in 1928. When Hitler's troops occupied Carpathia, Alex's family was herded into the Munkoch Ghetto where they lived in a filthy brick oven. In May 1944, the family was locked into a cattled car for a six-day-long journey to hell. When the British Welfare Agency arranged to fly orphans to the British Isles, Alex and his sister and one brother were flown to Scotland. In 1949, Alex immigrated to the United States. In 1951, he joined the American Army. One by one, all his siblings came to the United States.

Click here to view Alex's memoir. 








ALLAN HALL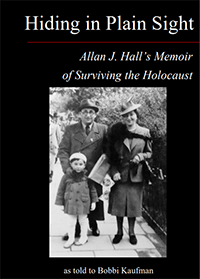 Allan Hall was born Ibn Cracow, Poland, in 1935. He led a charmed left until September 1939. Seeking safety, the family walked over 200 miles to Lvov where Allan was the first child picked up in the children's pogrom in the Lvov Ghetto. In 1948, the family emigrated to the United States. 12-year-old Allan, unable to read or write and not speaking a word of English began school. He went on the graduated from the University of Florida and the University of Florida Law School. He and his wife, Lori gold, have three daughters and four grandchildren.

Click here to view Allan's memoir. 








VICTOR FARKAS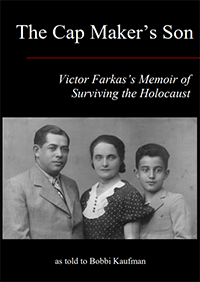 Victor had a happy childhood in his hometown of Debreen Hungary until the Nazis took over the country in 1944. His father gave him a coat with disguised gold coins as the buttons to use to bribe people if necessary. Victor was sent with his Mother to slave labor around Vienna before being sent to Mauthausen Concentration Camp where he was liberated. After the war, they escaped Soviet occupied Hungary eventually emigrating to Canada in 1951 and the United States in 1976.

Click here to view Victor's memoir.
HENRY FLESCHER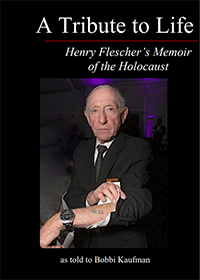 Henry Flescher was born in Vienna, Austria on March 14, 1924. After the Nazis took over Austria Henry eventually ended up in France where he was arrested and sent to slave labor in Poland spending almost three years in concentration camps before being liberated by American troops. Henry lived in Belgium after the war emigrating to the United States in 1950. He is survived by two daughters, three grandchildren and two great-grandchildren.

Click here to view Henry's memoir.
DAVID MERMELSTEIN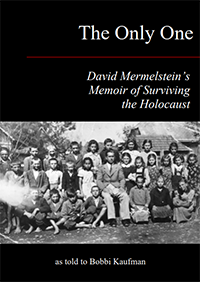 Born and raised in the Carpathian Mountains, David's town was occupied by the Nazis on his Bar Mitzvah. His family was sent to Bergase Ghetto before deportation to Auschwitz where he worked in slave labor and the death march until he was liberated in Ebensee Concentration Camp. After the war he escaped Soviet occupied Slovakia eventually immigrating to the United States where he met and married a Holocaust Survivor he had met in a refugee soup kitchen in Europe.

Click here to view David's memoir.
FRED MULBAUER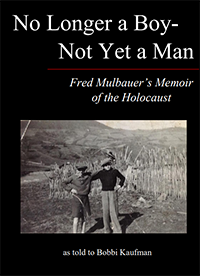 Fred Mulbauer was born in Stava, Czechoslovakia on December 28, 1929.  In the spring of 1944, after confinement in the Uzhhorod ghetto, Fred's family spent five days locked in a crowded cattle car with no food, water or sanitation. In 1948, Fred joined the American Friends of Haganah and served in Israel for 18 months. He returned to America and served in the Marines during the Korean War. In New Jersey, Fred built his business as a watchmaker and a jeweler. He married and had two daughters. After his wife passed away in 2001, Fred moved to Miami Beach.

Click here to view Fred's memoir.