Films, Presentations and Informative Lectures Offered During Holocaust Education Week

The legacy of the Holocaust will be considered through cultural, academic and personal perspectives in a series of enlightening film presentations, lectures and community discussions during Holocaust Education Week, November 5-9, 2023.
Holocaust Education Week is a community-wide program of the Holocaust Memorial Miami Beach, a Committee of the Greater Miami Jewish Federation.

All programming is free of charge and open to the public. Advance registration is required for all events, except for the Kristallnacht program.


Sunday, November 5 | 6 p.m.
Kristallnacht: The Night of Broken Glass
"The Spark That Ignited the Holocaust"

One of the most tragic days in modern Jewish history, Kristallnacht will be commemorated just prior to the 85th anniversary of the event. Widely considered to be a major turning point in Hitler's campaign to annihilate the Jewish people, Kristallnacht was marked by a series of coordinated attacks on Jews in Germany and parts of Austria on November 9-10, 1938.

---
Sunday, November 5 | 7:30 p.m.
My 100 Children (Documentary)


Introduction by Dr. Nicole Freeman, Holocaust Memorial Director of Education

Recommended for adults
Location: Holocaust Memorial Miami Beach


This documentary chronicles the courageous story of Survivor Lena Küchler, a young teacher and psychologist who established a home in eastern Poland for children who survived the Holocaust. The home served as both a school and a clinic for physical and mental trauma. Küchler's unique approach to learning, inspired by the Polish Jewish educator Janusz Korczak, was extremely progressive for its time. Violent antisemitic attacks on the home forced Küchler to flee Poland with her 100 children. After crossing Europe, they found safety in France until the State of Israel was founded, where she and the children resettled and became citizens.


CLICK HERE TO LEARN ABOUT DR. NICOLE FREEMAN
---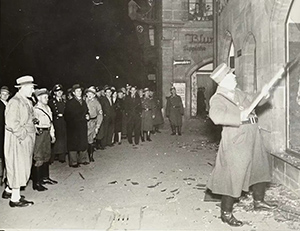 Monday, November 6 | 10 a.m.
Kristallnacht Photo Album
With Jonathan Matthews, Head of the Photography Section of the Yad Vashem Archives, Jerusalem

Recommended for students in grades 8-12 and adults
Location: Zoom
View never-before-seen photographs of Kristallnacht taken by two Nazi photographers in Nuremberg and Fürth, Germany, during November 9-10, 1938. Rare and riveting images expose the rioters in action while onlookers stand by, doing nothing to stop the violence or defend their Jewish neighbors. This photo album was kept for many years in the home of a Jewish American soldier who served in the US Army counter-intelligence department in Germany during World War II. Last year the soldier's family donated the album to Yad Vashem: The World Holocaust Remembrance Center.


CLICK HERE TO LEARN ABOUT JONATHAN MATTHEWS 


---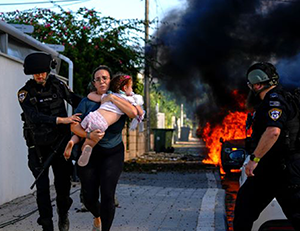 Monday, November 6 | 7 p.m.
Thoughts on the Situation in Israel 
With Dr. Michael Berenbaum, Noted Holocaust Scholar
Hamas' attack against Israel and its civilians on October 7, 2023 was the deadliest day for Jews since the Holocaust. Almost 80 years after the horrors of the Shoah, how was this attack humanly possible? Join world-renowned Holocaust scholar Dr. Michael Berenbaum for an informative and thoughtful discussion about the events currently unfolding in Israel.

CLICK HERE TO LEARN ABOUT DR. MICHAEL BERENBAUM

---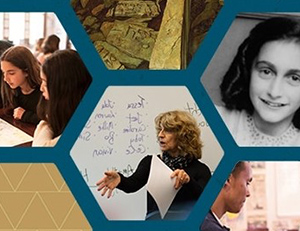 Tuesday, November 7 | 5:30 p.m.
Teaching the Human Story


With Bradley Sultz, Echoes and Reflections Advanced Learning Seminar Participant at Yad Vashem, Israel


Recommended for educators
Location: Zoom

Gain new insights into teaching about the Holocaust and examine pedagogical principles for effective Holocaust instruction as set forth by Echoes and Reflections, advanced Holocaust learning programs for educators at Yad Vashem in Israel. With a particular focus on fostering empathy and teaching the human story, this presentation encourages teachers to translate statistics into personal accounts by using witness and Survivor testimony whenever possible.


CLICK HERE TO LEARN ABOUT BRADLEY SULTZ
---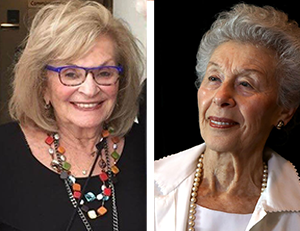 Wednesday, November 8  | 11 a.m.

Black Box Theater Encounter With Holocaust Survivors

With Survivors Dr. Miriam Klein Kassenoff and Judy Rodan
Moderated by David Reese, Language Arts Teacher
Miami Beach Senior High School students in grades 10-12 only
Location: Miami Beach Senior High School
Students will spend the morning at the Holocaust Memorial with volunteers and Holocaust Survivors Dr. Miriam Klein Kassenoff and Judy Rodan, who will share their firsthand experiences. Through meaningful dialogue, students will learn about the years surrounding the Shoah and how these Survivors forged new lives in their adopted countries. Moderator David Reese is a language arts teacher at Miami Beach Senior High School.
---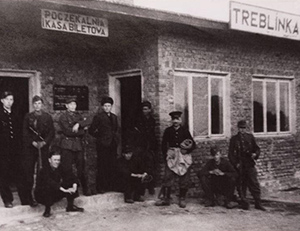 Wednesday, November 8 | 7 p.m.
Building Resistance at Treblinka


With Dr. Chad Gibbs, Assistant Professor and Director of the Zucker/Goldberg Center for Holocaust Studies at the College of Charleston


Recommended for adults
Location: Zoom
While many have heard of the Treblinka revolt, much less is known about how Jews trapped in the camp pulled off this stunning feat. The roots of resistance were evident long before that date as the insurgents worked painstakingly to build trust between prisoners and slowly gain access to restricted areas and desperately needed weapons. Perhaps even more astounding than the actual revolt on August 2, 1943 was the evolution of resistance at Treblinka, revealing an impressive plot to undermine the control of guards and set the stage for that final day.
CLICK HERE TO LEARN ABOUT DR. CHAD GIBBS
---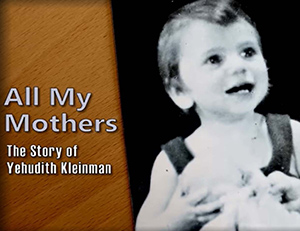 Thursday, November 9 | 10 a.m.
All My Mothers (Short Film)
The Story of Holocaust Survivor Yehudith Kleinman


Recommended for students in grades 5-12
Location: Zoom
Holocaust Survivor Yehudith Kleinman shares her testimony in this short film produced by the International School for Holocaust Studies at Yad Vashem: The World Holocaust Remembrance Center and the Center for Multimedia Assisted Instruction at the Hebrew University of Jerusalem. Kleinman was born in Venice in 1939 and moved with her family to Milan shortly after. In January 1944, she was taken to a convent for safety, where she was hidden and raised as a Christian. After the war, Kleinman had to make a fateful choice – to remain at the convent or to immigrate to Israel as a Jew. After spending several months in a children's home in northern Italy, Kleinman settled in Israel.
---