DR. MINDY S. HERSH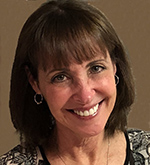 Dr. Mindy S. Hersh is a licensed mental health counselor in Miami with more than 40 years of experience working with individuals, couples, groups and organizations. In addition to her practice as a psychotherapist, her expertise as an educator, trainer, coach and organizational consultant has led to numerous professional and volunteer leadership roles throughout her career.
Hersh served for six years as the Director of Academic Enrichment of the University of Miami's Holocaust Survivors Support Internship Program from 2010 until the program ended in 2016. As a child of Holocaust Survivors and through the intimate interactions she had with the students and Survivors in the program, Hersh came to understand the power and importance of the relationships that were created and the impact of the program on Survivors and students alike. In particular, she was inspired by the degree to which students became impassioned about their responsibility and role in preserving and retelling the stories of their Survivors and the lessons of the Holocaust.
Hersh holds a Ph.D. in Counselor Education from the University of Florida. Her Ed.S. and M.Ed. degrees in Counselor Education are also from the University of Florida, and she earned a B.A. in Psychology and Sociology from the State University of New York at Buffalo.