Hundreds Gather to Remember Holocaust Victims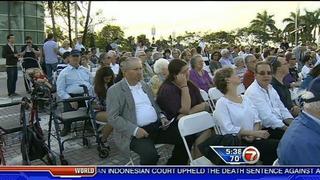 MIAMI BEACH, Fla. (WSVN) -- Hundreds of South Floridians came together for a solemn ceremony and paid tribute to the victims of the Holocaust, Sunday.
The group gathered at the Holocaust Museum in Miami Beach for Holocaust Remembrance Day. The Greater Miami Jewish Federation hosted the ceremony which featured prayers, songs and a candle-lighting ceremony. "The Jewish community is very accepted, and days like today tell us that these memories aren't forgotten," said Memorial Chairman Andrew Hall.
Six million Jews died in the Holocaust.
Read the full article here.