Survivor Profile: Herbert Karliner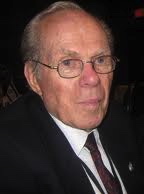 "I got up at five o'clock in the morning when we arrived in Havana. I was outside with my suitcase - all ready to get off the ship, the St. Louis. After a while they took us from the dock out into the harbor. Once the ship started back toward Germany, we got very panicky. Nobody wanted us." --Herbert Karliner
Herbert Karliner was born in Germany in 1926. In 1939, seeking refuge from Nazi terror after his family's grocery store was destroyed on Kristallnacht and his father was briefly imprisoned in Buchenwald, the family booked passage on the MS St. Louis sailing from Hamburg to Cuba. Denied entry to Cuba, hoping to be admitted to the United States, the ship sailed close to Miami Beach. When Herbert saw Miami Beach he knew he would live there someday.
Denied entry to the United States and Canada, the ship had no choice but to head back to Europe. Diplomatic arrangements were made for the 902 Jewish refugees on board to be given temporary asylum in unoccupied Holland, England, France and Belgium. Herbert's family was assigned to France. His parents and sisters were given an apartment in Mirabaud. Herbert and his brother were housed in OSE children's homes outside Paris. From 1939 until 1943, Herbert lived in the homes and worked in a bakery. When Paris was occupied by the Nazis and the children's homes were no longer safe, 16-year-old Herbert, under false identity, worked on farms and lived in the woods until liberation. He later learned his parents and sisters, along with two hundred other passengers from the St. Louis, were murdered by the Nazis.
In 1946, Herbert emigrated to the United States. In 1950, he was drafted into the United States Army and sent overseas. Today, Herbert and his wife, Vera, also a Holocaust survivor, live in Miami Beach overlooking the ocean where he first saw America - and was sent back to endure the Holocaust.