About the Sculptor
In the Eyes of the Sculptor: Creating the Holocaust Memorial
By Kenneth Treister, FAIA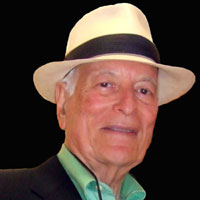 I was commissioned in 1985 to design and sculpt a memorial to the memory of the Jewish culture and individuals destroyed by the Holocaust; to create a memorial garden that would give survivors and those who lost loved ones a place to visit in lieu of the cemetery they do not have; and to express, in photographs and sculpture, the history and sorrow of the Holocaust so future generations will never forget.
I have been a sculptor all of my creative life, but this was my greatest challenge. The work took five years and included research in Jerusalem and work in Taiwan and Mexico City, where my sculptures were cast. The foundry could have been a scene out of the Holocaust… a dark, huge cavernous space, clouded in dust, the incessant hammering of the forged metal, body parts of wax floating in a pool of water, discarded plaster bodies lying in a large corner pile and the smoke billowing from the brick furnaces that lined the concrete floor.
No one can comprehend the number of six million or the fact that each of the six million was a person, with family, friends, and a full life... each enduring the most excruciating agony every second, minute, hour, and day, of the Holocaust. The immensity of this tragedy is infinite. To express it artistically, impossible ... but I had to try.
I created the memorial as a large environmental sculpture ... a series of outdoor spaces in which the visitor is led through a procession of visual, historical and emotional experiences with the hope that the totality of the visit will express, in some small way, the reality of the Holocaust.
NEVER SHALL WE FORGET. The totality of the Holocaust cannot be created in stone and bronze ...but I had to try. The rich diversity of the European culture, now lost, cannot be expressed ... but I had to try. The murder of one and one half million children whose joys turned to sorrow suddenly on September 1, 1939, when World War 11 broke out, cannot be sculpted...
But I had to try. Six million moments of death cannot be understood...
But we must all try.