The Memory Project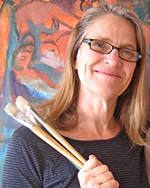 ROSALYN "ROZ" JACOBS
Founder and Creative Director of The Memory Project Productions, Roz Jacobs is a New York City painter whose work is exhibited in galleries and museums around the world. Her film projects include the award-winning Finding Kalman. Her book, Finding Kalman: A Boy in Six Million, co-written with her mother Anna Jacobs, was published by Abingdon Square Publishing and released as an e-book by Pearson.
The daughter of Holocaust Survivors, Jacobs conceived of The Memory Project as a way to connect to the humanity and life force of family members and others murdered during the Holocaust and to share their history.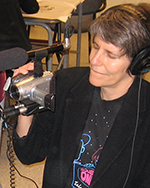 LAURIE WEISMAN
Founder and Executive Director of The Memory Project Productions, Laurie Weisman has had a 30-year career in educational publishing. She led teams that produced award-winning programs at Sesame Workshop and Scholastic and was an editorial director at Time for Kids and a producer of multimedia programs at Bank Street College of Education.